Assam Governor inaugurates Clean Nagaon Green Nagaon Mission
 Bhupen Goswami (20/09/2018)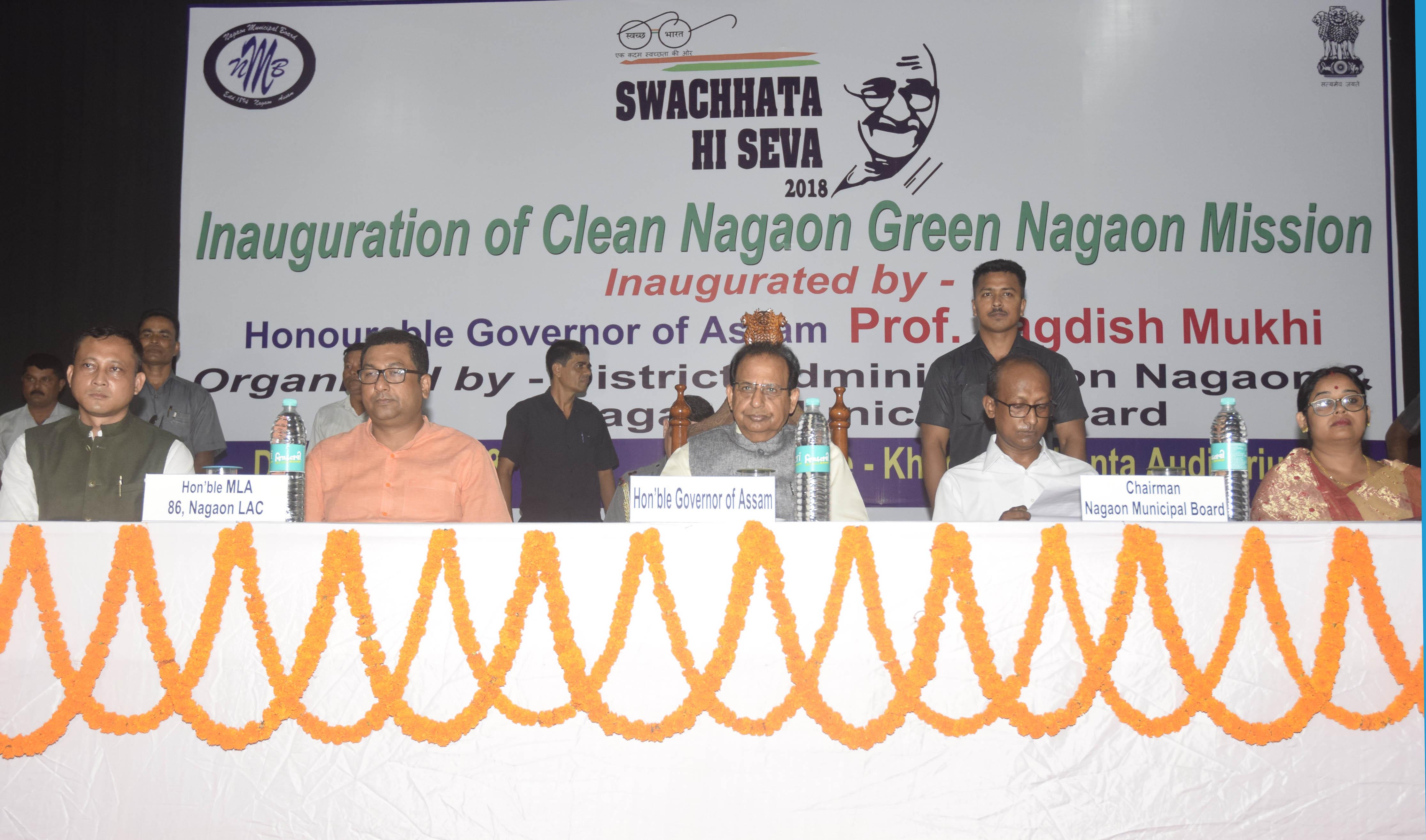 GUWAHATI : "Swachhata is the greatest Seva that any citizen can do for the society", said Assam Governor Prof. Jagdish Mukhi while inaugurating Clean Nagaon Green Nagaon Mission organised jointly by the Nagaon District administration and Nagaon Municipal Board at Khagen Mahanta Auditorium, at Nagaon today. Addressing the gathering, the Governor said, "Time has come we should realize that Swachhata is the greatest help that anybody can do for the society, as a clean environment leads to a healthy life and a dirty and unhygienic atmosphere spread diseases". He sought the cooperation from all sections of the people in making 'Swachhata Hi Sewa' a success and keep the surroundings clean and green. Prof.Mukhi said, "We are aware that in order to have healthy and long life, we need to be conscious and take steps to ensure our village and town or city is kept clean and free from garbage. At the same time, in order to keep the environment free from pollution and generate clean air, we need to plant more and more trees." He also urged upon everybody to practice cleanliness in their thoughts and actions because clean thoughts germinate into clean actions and clean actions give rise to clean environment. Governor Mukhi also appealed to all the inhabitants of Nagoan to consider swachhata campaign as a people's movement to achieve complete cleanliness in the district. The Governor further stressed that cleanliness at every level can be achieved if awareness is generated in every wards and consciousness of the people are to be created and littering of garbage should be stopped. He also said that a waste management plant should be set for recycling the garbage. Prof.Mukhi also said that Nagaon Municipal Board is a historic town dates back to the year 1894 and Nagaon town bagged the 1st Position in Swachh Survekshan Programme for the year 2017-18 in Category of North east zone outside Sate Capital. He believed that with dedication and zeal from all its citizens a clean and a green Nagaon can be created. It may be mentioned that during the last visit of the Governor to Nagaon town, it was observed that dirt and garbage was haphazardly strewn in various corners of the town. After the Governor's intervention, the district administration and Nagaon Municipal Board in order to streamline the waste management system, has taken the initiatives "Clean Nagaon Green Nagaon" for overall management of solid/liquid waste/garbage etc. so as to ensure making Nagaon cleaner and greener. Initially this "Clean Nagaon Green Nagaon" programme was launched in eight wards and within a short period of time this will cover all 26 wards. The Governor assured all cooperation for the mission "Clean Nagaon Green Nagaon" and revive the lost glory of the city. Deputy Commissioner Nagaon Biswajit Pegu, MLA Nagaon LAC Rupak Sharma, Chairman of Ngaon Municipal Board Diagnta Das, Vice Chairman of Nagaon Municipal Board Mrinalini Roy, members from NGOs along with a host of other dignitaries were also present in the inaugural function.
Colleges must work as catalyst for promotion of indigenous culture, local languages: Governor
 Bhupen Goswami (20/09/2018)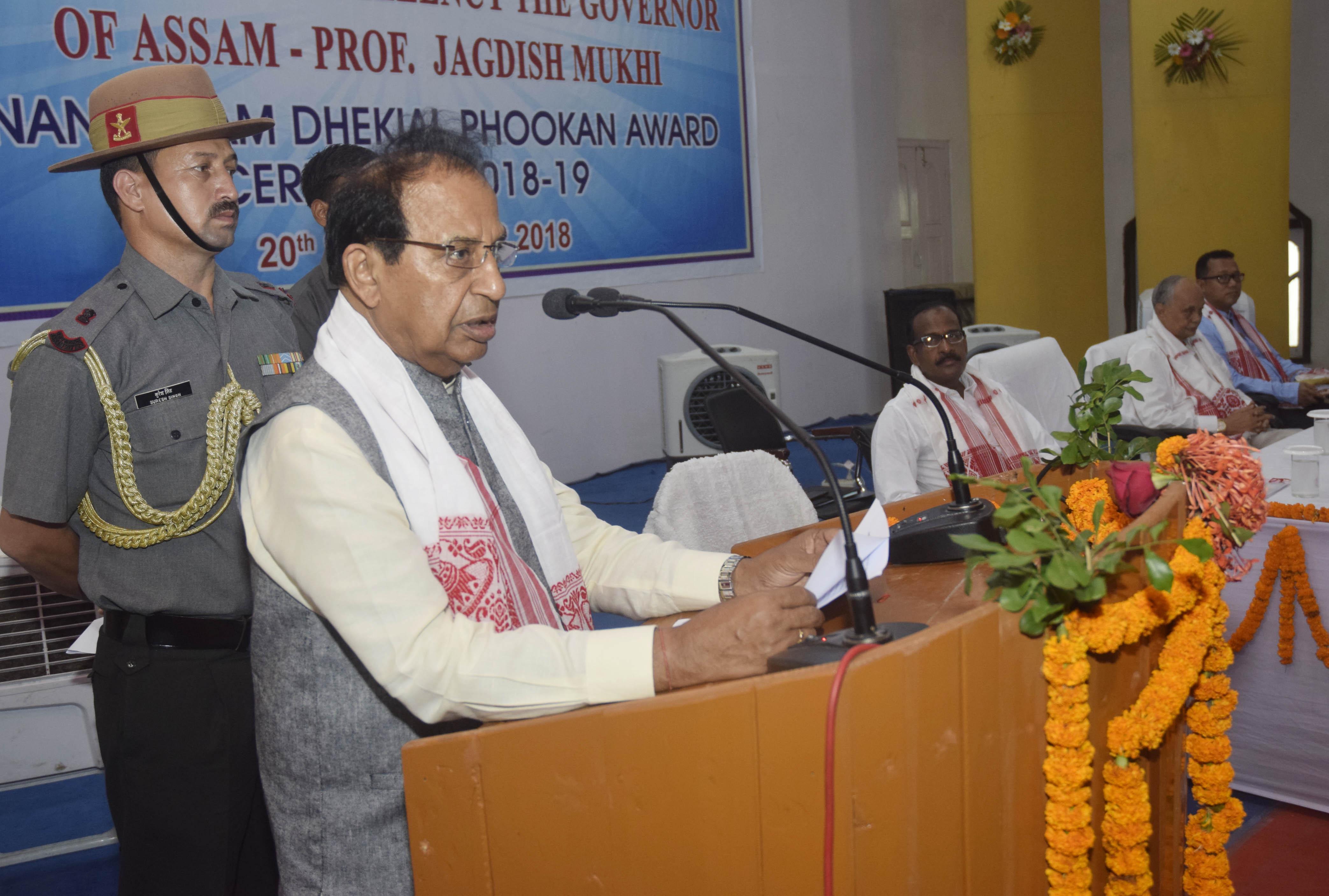 GUWAHATI : Assam Governor Prof. Jagdish Mukhi said that colleges must take a lead in helping the students to imbibe respect for indigenous culture, local languages. He also observed that promotion of indigenous culture, local languages should be another aspect that the colleges in the state must be working for. Speaking at the Anandaram Dhekial Phookan College at Nagaon today, Governor Prof. Mukhi said, "No doubt, English is important, making our own languages and dialects vibrant and functional remains one of the greatest challenges of education in our colleges today". Here, the college like Anandaram Dhekial Phokan should take the lead, the Governor observed. Prof. Mukhi also pitched for skilled based education where educational institutions like colleges and universities should play a proactive role. Prof. Mukhi also said that in view of India's average ranking in terms of skill competitiveness in the global arena, it has become difficult for employment opportunities to be created for over 65 per cent youth population of the country. Hence, the need to impart skill training and incorporating skill based competencies in higher education has become utmost important today. Increasing the skilled manpower of the country has become a strategic priority for the country. Institutes of Higher Education need to find ways and means to integrate conventional knowledge creation with skill based education, the Governor added. The Governor also said that Anandaram Dhekial Phokan College should take the lead in popularizing and promoting skill based education besides the conventional sets of education to increase the employability of the students. He, however, hailed the role of the college in introducing MSc course in Herbal Science and Technology which according to him would help the state and the region in becoming an organic hub. Prof. also said that for the spread of technical and professional high quality education the Centre has set up seven new IIMs, six new IITs and two new Indian Institute of Science Education and Research. It has also set up the Higher Education Funding Agency for lending money to institutions for infrastructure development. The Governor also urged upon the teaching and student fraternity of Anandaram Dhekial Phookan College to bear the social responsibility in mind and create ripples in the society to produce good citizens through education. He also observed that if education cannot make a difference to the lives of those who are in need, education cannot cater to the social needs. Prof. Mukhi also conferred Anandaram Dhekial Phookan Award to Prof. Nahendra Padun, in recognition to his overall role in the field of education, literature. The award carries a citation, a cash of Rs.24000 and a fullam gamosa.It may be noted that in absence of Prof. Nahendra Padun who is indisposed because of illness, his son Abhijit Padun received the award. Principal of Anandaram Dhekial Phokan College Dr. Surajit Kumar Bhagowati, President of the College Governing Body Sahajananda Ojah, faculty members of the college and a host of other dignitaries were present on the occasion.
SpiceJet introduces direct flights from Guwahati to Patna, Hyderabad and Gangtok
 Bhupen Goswami (20/09/2018)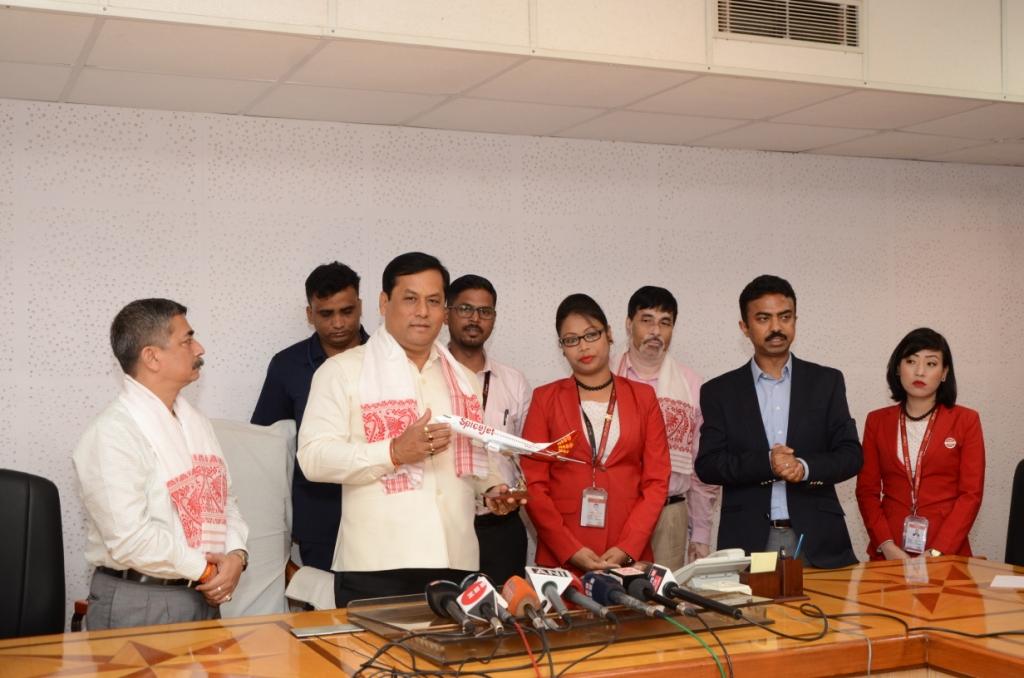 GUWAHATI : In a bid to boost air connectivity in regional routes, SpiceJet today announced the launch of three new direct flights from Guwahati connecting Pakyong in Gangtok, Patna and Hyderabad. While daily non-stop flight services on the Guwahati- Patna-Guwahati route and Guwahati-Hyderabad-Guwahati route would commence on October 10, daily direct connectivity on the Guwahati-Pakyong-Guwahati route would be effective from October 16. The announcement of the new flights was made in the presence of Chief Minister Sarbananda Sonowal in a programme held at his office conference room at Janata Bhawan today. On the occasion, Debojo Maharshi, Chief Marketing Officer, SpiceJet, handed over the first ticket and boarding pass to the Chief Minister marking the formal announcement of the launch of the new flight service. Appreciating SpiceJet's initiative, Chief Minister Sonowal termed the development as a golden opportunity for the state. He said the newly flights would not only boost trade, education and health, but would also facilitate higher footfall of tourists from other states to Assam. Underlining the importance of better communication for development, the Chief Minister lauded Prime Minister Narendra Modi's vision for growth of the region. He informed that during the Advantage Assam: Global Investors' Summit, SpiceJet CMD Ajay Singh gave assurance to the State Government for giving a new boost to air connectivity in regional routes from Assam and introduction of the flights marked a new beginning in that regard. Chief Minister's Media Advisor Hrishikesh Goswami, Chief Minister's Legal Advisor Santanu Bharali, Commissioner & Secretary , Transport Ashutosh Agnihotri were also present on the occasion.
MORE THEN 150 JOURNALISTS SORTLISTED FOR ACCREDITATION/ RECOGNITION STATUS
 Bhupen Goswami (20/09/2018)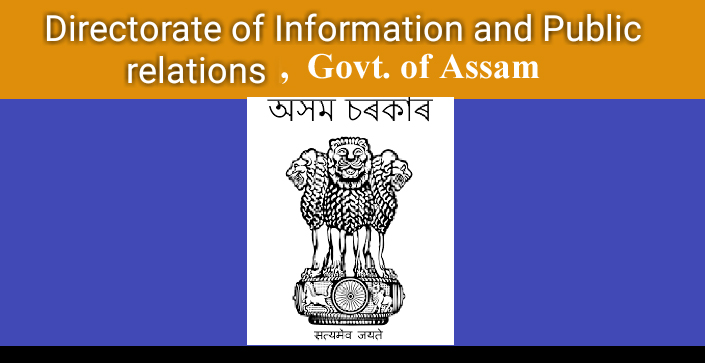 GUWAHATI : The State Press Accreditation Committee has shortlist 160 names of journalists who have applied for recognition / Accreditation including Editors of print and electronic media. The meeting was held today at the Office Conference Hall of Kumar Sanjay Krishna, IAS, Addl. Chief Secretary, IPRD, Assam and was also presided over by the Addl. Chief Secretary who was also was the Chairperson of the Committee. The Press Accreditation Committee comprises of P J Baruah, Executive Editor, The Assam Tribune, Achyut Kr. Patowary, Chief Associate Editor, Asomiya Pratidin, Gautam Sarma, Deputy Editor, Amar Asom, Prabin Kalita, Deputy Bureau Chief, Times of India, Keshab Kalita, President, Assam Union of Working Journalists, Mausamjyoti Baishya, Working President, Assam Press Correspondents Union and Bhupen Goswami, General Secretary, Journalists Association of Assam. Earlier, the Member Secretary of the Committee, Rajib Prakash Baruah, ACS, Director of Information & Public Relations Department has initiated the welcome address and explained the objective of the meeting.
CM chairs SITA Governing Body Meeting We must develop all 33 districts of the state as per the resources available:Assam CM
 Bhupen Goswami (20/09/2018)

 GUWAHATI : "We must develop all 33 districts of the state as per the resources available in each of those districts. When we focus on the available resources of the respective districts for preparing the budget and roadmap for development then only we can achieve holistic development of the state. In this regard, SITA can help us by studying the resource status of the districts." Chief Minister Sarbananda Sonowal today said while chairing the governing body meeting of State Innovation and Transformation Aayog (SITA) at his conference room at Janata Bhawan. During the meeting, discussion regarding the proposal submitted by SITA's expert committee for revival of Assam State Cooperative Agriculture and Rural Development (ASCARD) Bank also came up. Saying that after demonetization there is an increased need for bank branches at remote areas to transfer government scheme benefits to the beneficiaries, Sonowal stated that state government entities like ASCARD must be revived after thoroughly considering its feasibility and outstanding liabilities. Digital India initiative of Prime Minister Narendra Modi must be implemented to bring in transparency and efficiency in cooperative banking systems and empowering the weaker section of the society, he opined. Reviewing the proposal of SITA to conduct study on Tocklai Tea Research Institute, the chief minister said that the research centre must aspire to become one of the best in the world providing cutting edge solutions to tea industry for increased production and quality maintenance. He also said that the tea sector must also incorporate best practices from around the world from tea producing countries like Sri Lanka, Kenya etc. and incorporate those practices to break into newer markets for Assam tea and reclaim the glory of the tea industry here. The chief minister also directed SITA to find ways to popularise cultivation and consumption of local seasonal fruit varieties for their high nutrient contents. Referring to Prime Minister's vision to develop Northeast as an organic hub, Sonowal urged SITA to conduct study to develop the organic agricultural field in the state. The proposals of conducting study on muga rearing, producing renewable energy and utilising bioengineering technologies to tackle river bank erosion were discussed among others. Water Resource Minister Keshab Mahanta, Vice Chairman of SITA Dipok Kumar Borthakur, Legal Adviser to the Chief Minister Shantanu Bharali, Chief Secretary Alok Kumar, Principal Secretary to the Chief Minister Sanjay Lohia were also present in the meeting.
Five 5 Accountants from Guwahati Arrested In Sonari
 Bhupen Goswami (20/09/2018)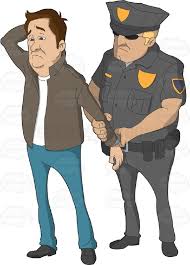 GUWAHATI : Five accountants have been arrested on bribery charges by the police in Sonari. The accountants allegedly took bribe from many Panchayat Secretaries to cover up the corruptions in the Village Panchayats. The arrested accountants are Rafikuddin Ahmed and Saikat Bhattacharya of Guwahati, Auditor Hem Bahadur and Subrat Duwara and the fifth, Auditor Jugal Kishore Tamuli of Nogaon. The accountants were caught red handed by the police taking a bribe of Rs 3 lakh 34 thousand at hotel Greenview's room no 7 in Sonari. The operation was headed by ADC Pranab Bora. The police also raided four other rooms from where they recovered money. The arrested accountants are being interrogated by the police for further details and their bank pass books are being checked.
Guwahati International Film Festival (GIFF): Priyanka Produced 'Bhoga Khirikee' To Release On Oct 26
 Bhupen Goswami (20/09/2018)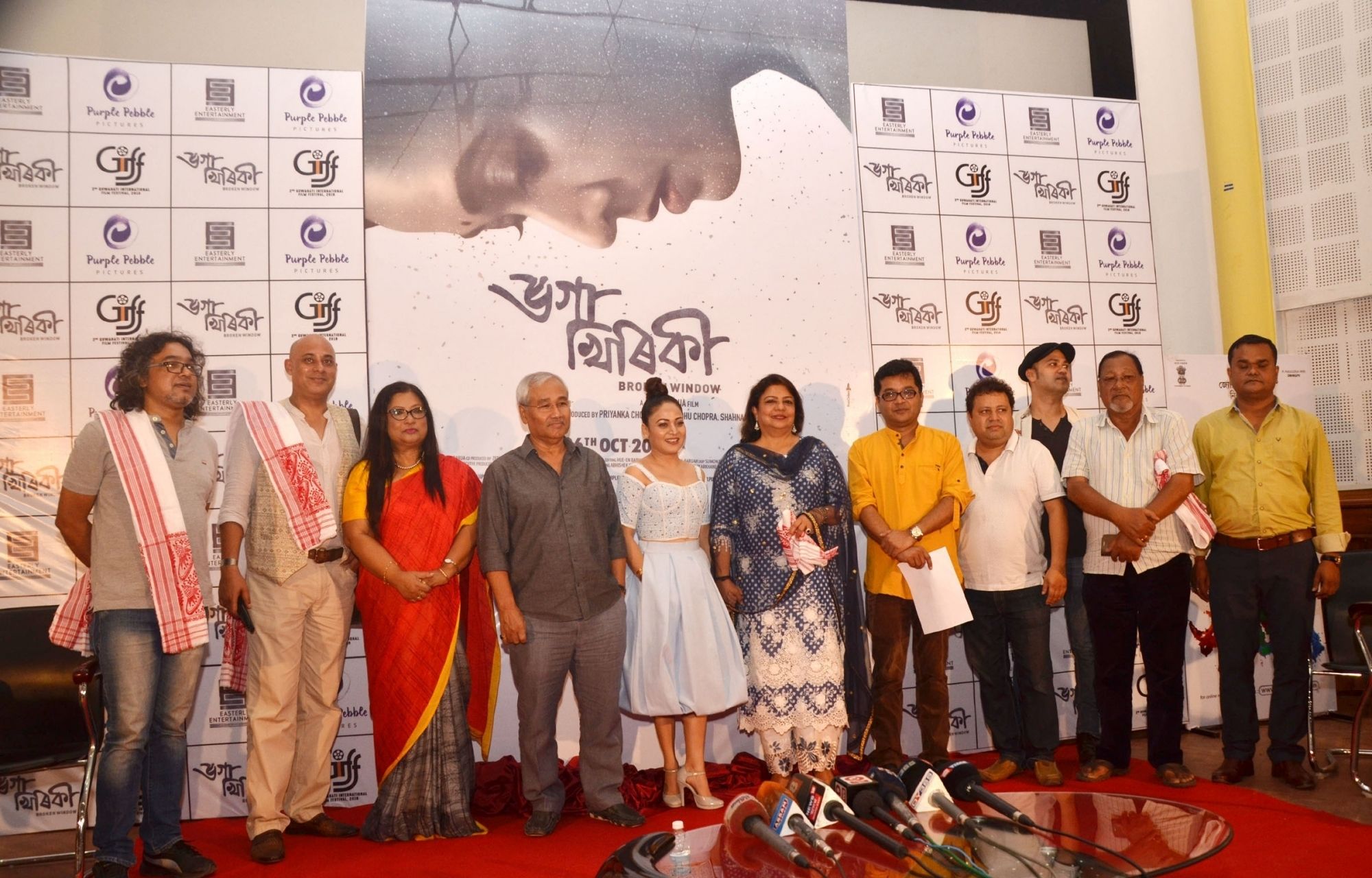 GUWAHATI :Priyanka Chopra, Assam tourism's brand ambassador has now ventured into film production and is bringing an Assamese movie named 'Bhoga Khirikee' (Broken Window) for the people of the State. Jahnu Barua directorial 'Bhoga Khirikee', the first Assamese movie to be produced by Priyanka Chopra's banner, will release on October 26 in Assam and other select cities across the country. The film marks the debut of Priyanka Chopra's production house, Purple Pebble Pictures, in Assamese cinema. The film will also be screened at the Guwahati International Film Festival (GIFF) during the opening ceremony at the Srimanta Sankardeva Kalakshetra on October 25. The movie includes stellar performances by actors Zerifa Wahid, Seema Biswas, Joy Kashyap, Sanjay Khargharia, Kasvi Sharma, Mohammed Ali Shah and Bishnu Khargharia.While he was happy that a well-known name like Priyanka had come forward to support Assamese cinema, Barua said that ultimately a film is accepted based on the subject and issue one deals with, and how that is represented. "Each and every social problem has a side of universality. Certain things are universal, and it can happen anywhere, so it is identified everywhere... In my films, the main graph is humanity... the cause of humanity, and that is same everywhere. So, I feel like earlier films also, this will also be accepted everywhere,Made at a cost of around Rs 2.5-3 crore, Bhoga Khirikee is directed by national award winning director Jahnu Barua . Talking about the film, Barua said: "It is a story of Assam and was with me for many years. I have updated it to suit today's context. Bhoga Khirikee is from the core of my heart. It is a very special story." Chopra said that the film is about trust and hope between people, while the music composed by Ibson Lal Baruah is "so haunting and catchy that it will stay for a long time". Along with Purple Pebble Pictures, Shahnaab Alam's Easterly Entertainment has produced Bhoga Khiri
Mamata provoking Bengalis in Assam ,All Madrassas are production centres of Jihadis: Assam BJP MLA Shiladitya Dev
 Bhupen Goswami (20/09/2018)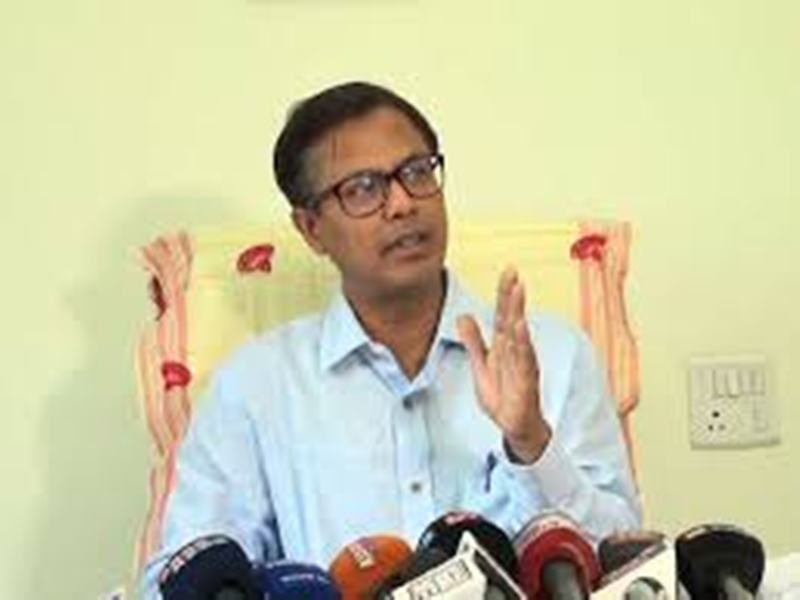 GUWAHATI : BJP legislator from Hojai, Shiladitya Dev today stroke another controversy by stating that the Madrassas(Islamic religious schools) are the production centres of Jihadis. "Madrassas are the headquarters, they are main production centres here, this is the place where they brainwash people." said the Hojai legislator. Further adding, "We Assamese are very liberal, that is the reason these institutions are growing. It is us who have given them abundant opportunities for the growth along with the jihadis." Dev was addressing the media here in Guwahati. The statements came post the arrest of the seven linkmen of the terrorist organization Hizbul Mujahideen from the state and one suspected cadre of the organization from Kanpur, who hails from Hojai. The Hojai legislator while talking about the National Register of Citizens (NRC) exercise in Assam claimed that NRC is going to turn the Assamese community into a minority. "I am very sure that the final release of the NRC will claim only 25% of Assamese turning the community into a minority. Instead of saving the identity of the indigenous people, we are deteriorating our own community through this process. The agenda of Prateek Hajela for NRC should be monitored." added Dev. He also accused Hajela of playing with the emotions of Assamese community.While a BJP legislator of the state alleged that several illegal Bangladeshi person names were also included in the NRC.Shiladitya Dev, BJP MLA representing middle Assam's Hojai assembly constituency said that We have noticed that, several mistakes were happened in the electoral rolls in Assam by inclusion of illegal Bangladeshi people and those government officials who were engaged in the electoral rolls preparing process are also engaged in the NRC updation process.BJP legislator Shiladitya Dev accused West Bengal chief minister Mamata Banerjee of trying to drive a wedge between the Assamese and Bengalis in Assam by making baseless comments on the National Register of Citizens (NRC). "Mamata is not only trying to create a rift between Assamese and Bengalis living in Assam but is also exposing herself to the double standards she has been maintaining on the issue of sheltering religious minorities, especially from Bangladesh," Dev, who represents the Bengali-majority Hojai assembly constituency, said. He added that Mamata had vociferously opposed the Citizenship (Amendment) Bill, 2016, which proposes to grant citizenship to religious minorities from Bangladesh, Pakistan and Afghanistan. How many madrassas have produced engineers, doctors, IAS officers? Yes, but all madrassas have produced terrorists.
'Trafficked' teenage girl from Assam rescued from West Bengal Red light area
 Bhupen Goswami (20/09/2018)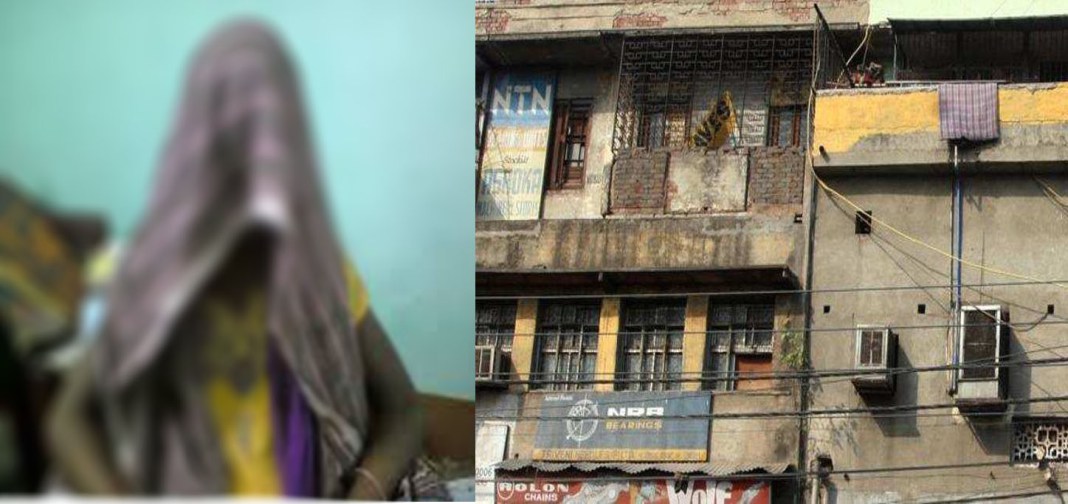 GUWAHATI : The West Bengal Police have rescued a trafficked teenage girl from Assam along with her 2-year-old child from Siliguri town. She was brought back to Assam on Wednesday. The girl hails from Rangia in Kamrup district and was missing for the last two months. She was rescued by the West Bengal Police when the police busted a sex racket in Siliguri recently. As per reports, the girl was lured by a woman along with her son from Guwahati and then sold her off in a red light area. According to the West Bengal Police, the girl revealed that she hails from Assam during interrogation. Later, the Assam police were intimated and accordingly a police team went to Siliguri and brought the girl and her child back to the city. In the meantime, the police have started a manhunt to nab the woman who allegedly sold her in the red light area.
Assam BJP IT Convener Got Boot For Lauding SFI Win
 Bhupen Goswami (19/09/2018)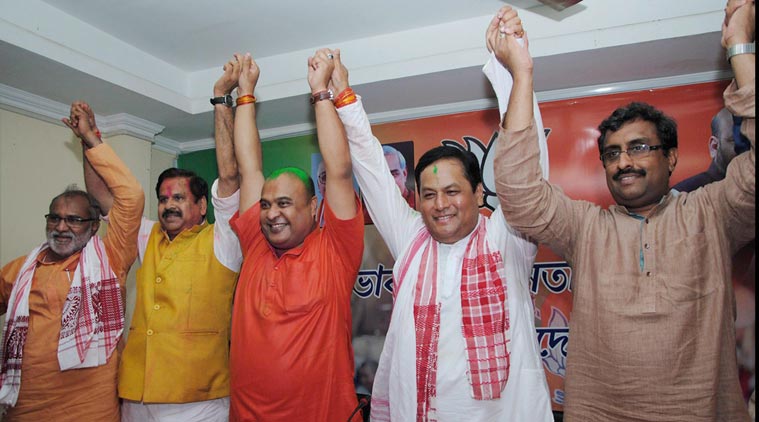 GUWAHATI : The Assam BJP IT convenor Suranjan Dutta lost his job for hailing win of an Assamese girl, who happens to be from SFI, in the Jawahar Lal Nehru University (JNU) student body election as the BJP state top brass were aghast even as he was savagely trolled by the BJP supporters. Mr Dutta, innocuously congratulated Srijoni Bhawa Mahanta, who hails from Assam for winning a councilor post in the JNU election, which was bitterly fought by the left bloc student union and BJP's student wing ABVP. The left bloc trounced ABVP in the election and maintained the traditional hold over the JNU. Although Dutta's congratulatory message was of innocuous tone for a state kin but the saffron brigade did not tolerate and the state top brass shown him the door. Dutta on Tuesday decided to resign from his post for demoralizing the BJP workers through his FB post. In his resignation letter to the BJP president Ranjit Kumar Das, Dutta begged apology for causing "hurt" to party workers for the Facebook post. It may be mentioned that, Srijani Bhaswa Mahanta is the daughter of Assam ADGP Bhaskar Jyoti Mahanta.
NIA To Interrogate Arrested Hizbul Mujahideen Cadres
 Bhupen Goswami (19/09/2018)
 GUWAHATI : A special team of the National Investigation Agency (NIA) has reached Dabaka to interrogate the arrested seven Hizbul Mujahideen Assam cadres. The special NIA team will interrogate the alleged terrorists in PWD's IB. Assam Police had interrogated the seven members in Powergrid's IB on Tuesday. The mastermind behind the Terrorist outfit's 'Assam Connection' – Shahnawaz Alam will also be interrogated by the NIA team. It was in his leadership that 'Sleeper Cell' was formed in the state. Saidul Alam, Omar farooq, Jainal Ahmed, Baharul Islam, Riyaz Uddin and Saiful Islam will also be interrogated by the special team. All the seven arrested alleged terrorists are in Hojai Police's custody.
Target in Assam : Hizbul Mujahideen Planned A Catastrophe
 Bhupen Goswami (19/09/2018)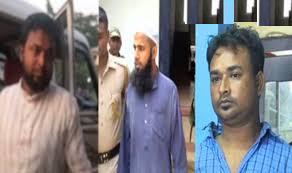 GUWAHATI :With terrorist outfit Hizbul Mujahideen making headlines in Assam, shocking details of the outfit in 'Assam Connection' have even stunned the police of the state. It has come to light that the Assam cadres of the militant outfit were planning for a 26/11 like catastrophe in Assam. It would have turned into a reality if not for Kanpur ATS, who arrested Kamruz Zaman last week. Hojai Court has sent three Hizbul Mujahideen cadres, namely Riyaz Uddin, Baharul Islam and Jainal Ahmed into police custody for a period of seven days. It may be mentioned that till now seven members of the terrorist outfit have been arrested. Hojai Police has released the list of the arrested members of the outfit. The arrested are: Shahnawaz Alam; Saidul Alam; Omar Farooq; Jainal Ahmed; Baharul Islam; Riyaz Uddin; and Saiful Islam, Kamruz Zaman's elder brother. All the arrests have been made based on the case filed at the Jamunamukh Police station.The Hizbul Mujahideen had set its sights on Assam to spread its wings. The revelation was made by Assam Police in the aftermath of the arrest of an operative of the terrorist organisation and some of his accomplices. Last week, the Uttar Pradesh Police had arrested Qamar-uz-Zaman, a Hizbul terrorist from Kanpur, who had allegedly planned to carry out subversive acts in the state during Ganesh Chaturthi. Later, based on his leads, seven people were arrested from Assam and Meghalaya. That Zaman, who hails from Jamunamukh in central Assam, joined the terror group was known a few months ago when a photo of him, holding an AK-47 rifle, went viral on the social media. The police said the HM had sought to spread its tentacles to Assam and as such, sent Zaman to Assam in August to radicalise Muslim youth. "They wanted to involve others and had plans to do something here. Their target area was Lumding in Hojai district. They wanted to launch a start-up. We kept them in the loop but we didn't have concrete evidence on their linkage with Hizbul Mujahideen. When he (Zaman) came, he had maintained secrecy as evident from his not visiting his house," Hojai district police chief Ankur Jain told TNIE. He said some of the arrests made in Assam were based on inputs. "We are working on the leads. We have technical evidences and we are working on those," Jain said. Assam's Director General of Police, Kuladhar Saikia, is personally monitoring the investigation. "Whosoever had helped him (Zaman) during his visit to Assam or hid his identity, will be viewed as parties of the conspiracy. He is a known Hizbul operative," Jain said. One of the seven persons arrested in Assam is Saidul Alam who has been all along a brilliant student, the police said.
Assam Celebrates Mahapurush Srimanta Sankardeva'Guru Jayanti'
 Bhupen Goswami (19/09/2018)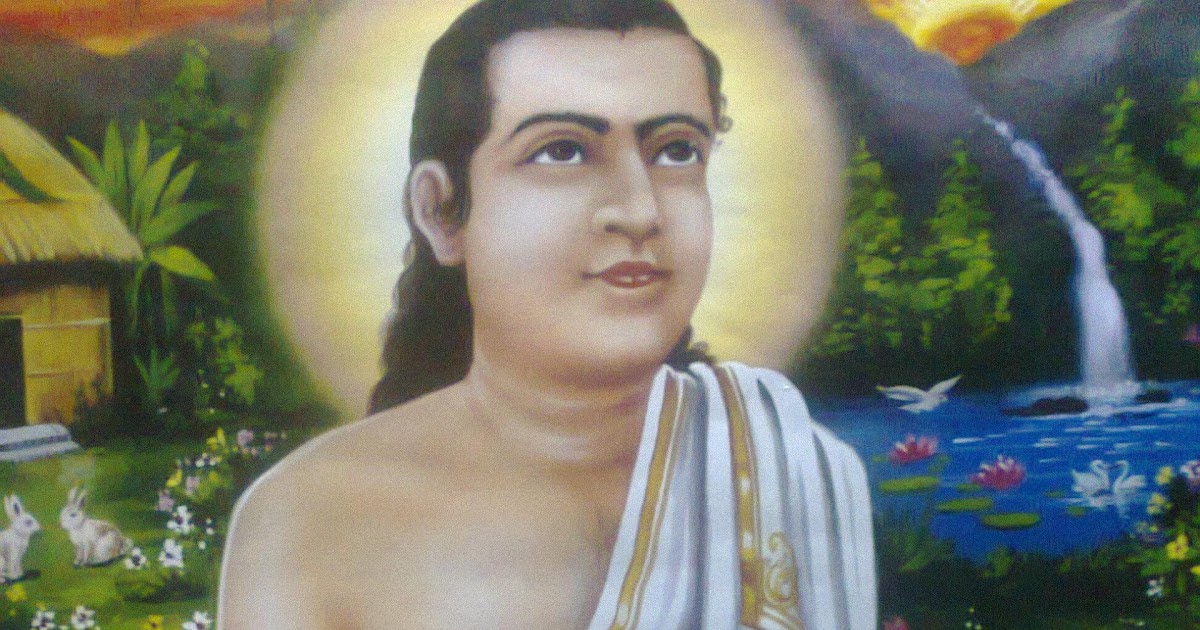 GUWAHATI : Today marks the 570th birth anniversary of Mahapurush Srimanta Sankardeva. Assam's 'Sattra' and 'Namghar' are echoing with 'Harinam', 'Thionam' and 'Dihanam'. Sattras have started the day with 'Borgeet' and 'Gayan-Bayan' filling the atmosphere sonorously. Sankardeva's birthplace Batadrava has come alive to celebrate this pious occasion. Along with Majuli's 35 Sattras, more than three hundred Sattras of the state are celebrating the Mahapurush's birth anniversary. It may be mentioned that in 20 places people have come together to mark this day collectively. Srimanta Sankardeva Sangha has also organised a two-day event in Majuli's Natun Bazar to celebrate 'Guru Jayanti'. The Mising tribe has also come forward to celebrate this auspicious occasion in Borpomua and Ujoni Borpomua Sarvodaya Sangha in Majuli.
Assam CM Sonowal asks DCs to play proactive role to spread fruits of good governance Ayushman Bharat to be rolled out on 23 September
 Bhupen Goswami (19/09/2018)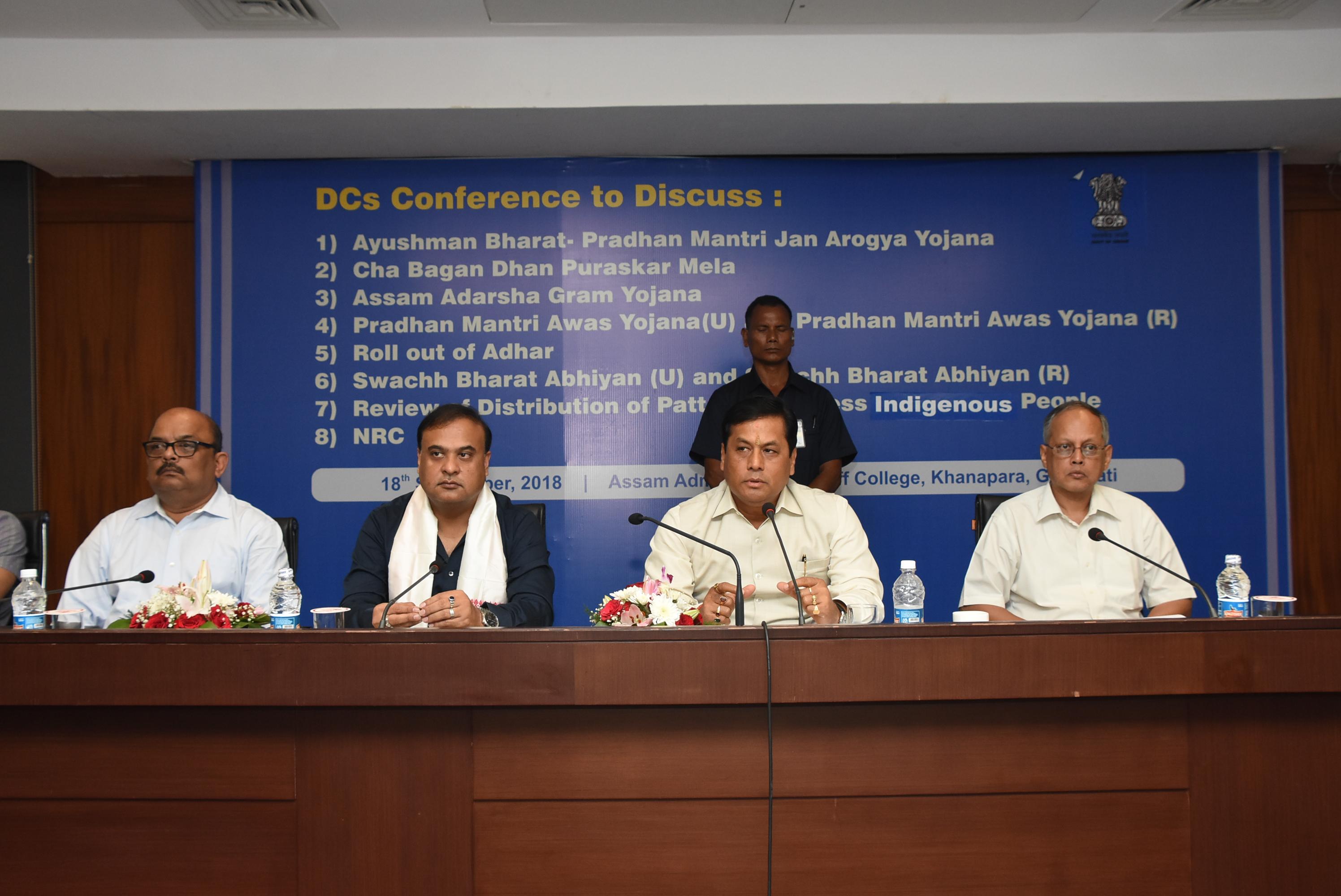 GUWAHATI : Chief Minister Sarbananda Sonowal said, "For taking good governance at all levels of administration, Deputy Commissioners have to take pro-active role and they have to put in extra hour of work to implement government schemes for the benefit of the people at large". Talking at the conference of the Deputy Commissioners (DCs) at Assam Administrative Staff college here today, Chief Minister Sonowal made a fervent appeal to all the DCs to internalize the broad spectrum and underlying objective of the government schemes to implement them in letter and spirit for the benefit of the people at large. Sonowal made a special mention of Ayushman Bharat: Pradhan Mantri Jan Arogya Yojana which is all set to be inaugurated on 23 September in Assam along with other states of the country. It may be noted that Pradhan Mantri Jan Arogya Yojana will provide more than 10.74 crore economically deprived families with a health cover of up to Rs. 5 lakh. He said that under the ambit of Ayushman Bharat, a Pradhan Mantri Jan Arogya Yojana (PM-JAY) efforts have been made to reduce the financial burden on poor and vulnerable groups arising out of catastrophic hospital episodes and ensure their access to quality health services. PM-JAY seeks to accelerate India's progress towards achievement of Universal Health Coverage (UHC) and Sustainable Development Goal - 3 (SDG3). He also asked the DCs to make adequate planning to generate awareness about Ayushman Bharat so that people belonging to underprivileged sections of the society can reap dividends to enjoy quality health care delivery system under the scheme. He also said that during the ceremonial launch of the schemes at the district level, the DCs should invite eminent personalities and public figures of the district to elicit community involvement with the scheme. Chief Minister Sonowal also appealed to the DCs to revolutionize the financial inclusion through Chah Bagicha Dhan Puraskar Mela and complete the entire process of direct benefit transfer under the scheme to those account holders who opened bank account during demonetization period quaickly. It may be noted that State government has already launched Chah Bagicha Dhan Puraskar Mela and transferred Rs. 2500 each to all account holders belonging to tea community. He also asked the DCs to complete all formalities by October 31 to bring all the tea workers under the ambit of Chah Bagicha Dhan Puraskar Mela and transfer the financial incentives at the earliest. Chief Minister Sonowal also took the review of Assam Adarsha Gram Yojana and asked the DCs to put their heart and soul into the scheme and make the scheme an ideal one. Health and Family Welfare Minister Dr. Himanta Biswa Sarma who was also present at the conference, analysed the salient features of the schemes like Ayushman Bharat, Chah Bagicha Dhan Puraskar Mela and Assam Adarsha Gram Yojana and urged the DCs to showcase their creativity and competitiveness by ideally implementing the schemes. Stating that money is not the constraint, Dr. Sarma asked the DCs to devise innovative ways for successful implementation of the schemes. He also told them for any financial requirement for the implementation of the schemes they should submit proposal as the finance department would release the amount immediately. Chief Secretary Alok Kumar, Additional Chief Secretary for Finance Rajib Bora, Principal Secretary Health and Family Welfare Sameer Sinha, Principal Secretary to the Chief Minister Sanjay Lohiya, senior officers of the State administration were present during the conference.
Sikkim's Flight to Prosperity: Countdown Begins for Pakyong Airport's Inauguration
 Bhupen Goswami (18/09/2018)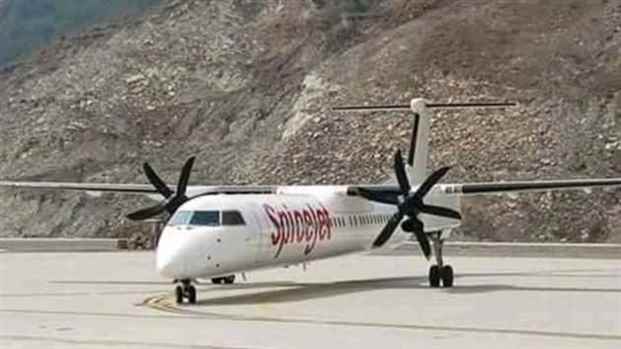 GUWAHATI : ikkim is soon going to feature in India's aviation map with the commissioning of the state's first and the country's 100th functional airport coming Sunday. Spread over 206 acres and sitting snugly at a height of 4,500 ft between the Himalayas, Pakyong airport is an example of stellar engineering at an estimated cost of Rs 605.59 crore. State-of-the-art geotechnical engineering including soil reinforcement and slope stabilisation techniques has gone into the making of the Greenfield project that is becoming functional almost a decade after it was approved by the Union Cabinet. Since Pakyong is located less than 30 kilometers from the state capital Gangtok, tourists as well as local travellers will now be spared of the 4-5 hour harrowing journey uphill from the other nearest airport Bagdogra. Press Information Bureau (PIB), Gangtok, facilitated a press tour to the airport site today to let the media get first hand information on the ongoing preparations for the Prime Minister's visit for the inauguration of the Airport on September 23. Present at the site were Sikkim's Minister of Civil Aviation and Tourism department, Ugen T Gyatso Bhutia, Minister for Building and Housing Department and Transport D T Lepcha, Additional Chief Secretary, Government of Sikkim S C Gupta, Pakyong airport MLA Hemendra Adhikari, and officials of the Airport Authority of India. "Greenfield airports have their own beauty and merits. You will experience them when flights start operating. Moreover, the airport will have multi-dimensional benefits for Sikkim which will gradually come to the fore with time," Ugen T Gyatso Bhutia, Minister of Civil Aviation and Tourism department, Government of Sikkim, told the media persons. With an eye on the Puja holiday travel, SpiceJet is set to start operating daily flights to and from Kolkata and Guwahati from the 8th of October, contingent to the official inaugural. SpiceJet will operate Bombardier Q400 aircraft with 78 seats on this sector. As the airline has been granted permission to operate from Pakyong under the Union Civil Aviation Ministry's UDAN (Ude Desh Ka Aam Nagrik) scheme for enhancing regional connectivity, the cap on fares for the routes is Rs 2,600. "The Pakyong airport has been included in the central government's ambitious UDAN scheme. This is bound to enhance regional connectivity aiding the development of Sikkim's tourism sector. Also, gradually, the airport will connect Sikkim with other countries in the region like Bhutan, Kathmandu and Bangkok where people from the state usually go on vacations," Ugen T Gyatso Bhutia, Minister of Civil Aviation and Tourism department, Government of Sikkim, told the media persons. Indian Air Force's Dornier 228 was the first aircraft to be tested from Pakyong on March 5 this year. Following this, SpiceJet conducted the successful test flight of the 78-seater Bombardier Q400 from Kolkata to Pakyong on March 10 leading to security clearances for commercial operations.
Hizbul Mujahideen Terror Module Busted In Assam, Say Police
 Bhupen Goswami (18/09/2018)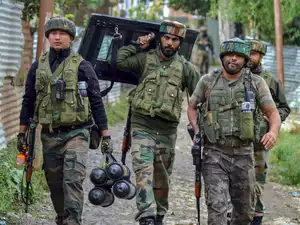 GUWAHATI : Three men arrested from Assam are believed to have links with Hizbul terrorist Qamar-uz-Zama who was arrested by the Uttar Pradesh Anti-Terrorist Squad, police said. The Assam Police have said that they have busted a module of the Hizbul Mujahideen terror group with the arrest of three people for their alleged links with a terrorist arrested last week. The three, identified as Shahnawaz Alam, Saidul Alam and Omar Faruk, were arrested from Hojai, Udali and Byrnihat, along the Assam-Meghalaya border, respectively, on Friday and Saturday, Director General of Police Kuladhar Saikia told reporters. They were believed to have had links with Hizbul terrorist Qamar-uz-Zama who was arrested by the Uttar Pradesh Anti-Terrorist Squad, he said. "The three persons had regular interaction with Zama and we are investigating the information provided by them (to him)," Mr Saikia said. "We are also investigating Zama's visit to Assam earlier this year (including) the places he visited, the persons with whom he stayed, the purpose of his visit, among other aspects," he added. Shahnawaz had allegedly arranged a mobile SIM card for Zama by providing a fake identity card, while Saidul is a close friend of the terrorist and had stayed with him in Kashmir. Zama allegedly stayed with Omar in Guwahati during his last visit. A resident of Assam, Zama was arrested on Thursday by Uttar Pradesh ATS following inputs from the National Investigation Agency that he planned to attack a temple in Kanpur during the Ganesh Chaturthi celebrations and had conducted a recce. COMMENT Zama had undergone training in Jammu and Kashmir's Kishtwar district in April 2017, as per security forces. He had also undergone training in Pakistan in 2017 and joined the Hizbul there. He also stayed abroad between 2008 and 2012, as per information provided by the UP Police with Assam Police.
Political turmoil offers green fields in NE, targets set at least 21 seats: BJP
 Bhupen Goswami (18/09/2018)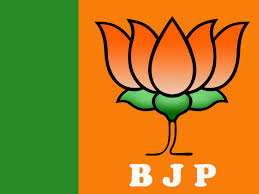 GUWAHATI : Preparations have already started for the ensuing 2019 Lok Sabha elections and the incumbent Bharatiya Janata Party (BJP) is eyeing at least 21-22 seats from Northeast after being encouraged by political developments in Mizoram and Meghalaya. While in Meghalaya, former Chief Minister and Congress veteran 84-year-old DD Lapang quit the party expressing "frustration" against high command, in Mizoram state Home and Power Minister Lalzirliana also resigned and is reportedly moving closer to MNF of Zoramthanga, a friend of BJP. "Developments in Mizoram and Meghalaya are encouraging as this shows the mounting troubles for Congress. In February 2018, Congress faced serious desertion in Nagaland…..so it's good," a party leader said. Meanwhile, BJP insiders suggest in Assam, where the party won seven out of 14 seats in 2014, the party may crack the whip against three to four of its seven sitting MPs as 'local trends call for changes in approach and also new faces. Sources said the age criterion of 75 years bar may be used against Guwahati MP Bijoya Chakravarty. "There are other issues too…Guwahati is fast expanding city….it will expand faster under double engine efforts of BJP governments in the state and also the Centre," the source said adding there may be a need for a dynamic and much younger face. However, things are also getting complex as Mangaldai MP Ramen Deka too is keen for Guwahati. In 2014 too Mr Deka was keen for Guwahati seat but then BJP president Rajnath Singh had persuaded him to stick to his constituency.
102/108 Employees Temporarily Withdraw Strike
 Bhupen Goswami (18/09/2018)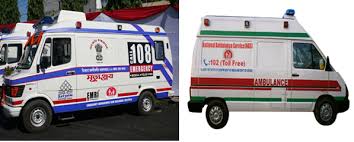 GUWAHATI : After days of protest by 102/108 emergency service employees against the government and GVK EMRI, the employees have decided to temporarily withdraw their strike. The decision comes after the Assam CM Sarbananda Sonowal and Health Minister Himanta Biswa Sarma urged the employees to end the strike and hold talks to come to a conclusion. The emergency ambulance services will resume its normal duties from tomorrow. However, the 102/108 employees have informed that if no conclusion is reached following the talks on September 21, they will continue with their strike again.
Manipur Mob Lynching: Police Official Suspended
 Bhupen Goswami (18/09/2018)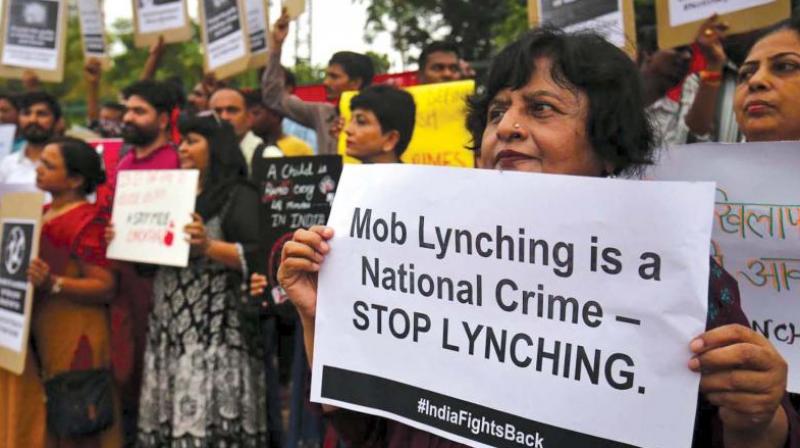 GUWAHATI : In connection to the Manipur mob lynching case of September 13, five people have been arrested and a police official has been suspended, although eight other prime accused are still on the run. The five accused, arrested on September 17, have been booked under sections of Indian Penal Code (IPC) and remanded to police custody for four days by a city court. In what seems like a repetition of Abhijeet-Nilotpal incident, 26-year-old Farooque Khan, a resident of Thoubal district was lynched by an agitated mob in West Imphal's Tharoijam area on suspicion of stealing two-wheeler vehicles. Speaking to the media, Imphal West Superintendent of police (SP), Jogeschandra Haobijam said, "Altogether, 13 persons involved in the unfortunate incident of lynching a youth have been identified. We will soon arrest the remaining individuals involved in the attack." He further said that stern action has been taken against some police officials for failing to contain the incident. "Stringent action has been taken against four police personnel present at the incident spot. One Sub-Inspector has been suspended and the service of three Village Defence Force personnel has been terminated for failing to take required action during the incident and not providing timely medical aid to the victim," Haobijam added. The incident has triggered sharp condemnations and protests by scores of social activists and locals residing in the area. The Manipur Human Rights Commission has taken suo motu cognisance of the case and directed the Director General of Police to initiate an investigation into the matter and submit a report by September 22.
Water ATMs And Bio-Toilets In Guwahati Soon
 Bhupen Goswami (18/09/2018)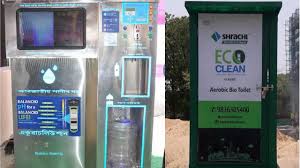 GUWAHATI : Guwahati is all set to get new sets of Water ATM and bio-toilets soon. A water ATM is an automated water vending machine that dispenses pure drinking water when a coin or note is inserted into it. A water vending machine works like any regular bank ATM, the only difference being that it provides water instead of money. However for Guwahati, the government has decided to issue a NFC card for dispensing water. Although not necessary for everyone, the card will offer discounts and easy access. The Water ATMs will dispense 250 ml of water for Rs 1, Rs 5 for 1 litre. If a NFC card is used, 20 litre of water can be dispensed for Rs 25 only. The Water vending machines, proposed to be set up in 20 different places across the city, will be inaugurated on September 20. Till now, 12 of them have been installed. Each of the machines has cost Rs 10 lakh while the total installation budget is Rs 2 crore. The ATMs will dispense both chilled and normal drinking water. The city is also set to get new automated bio-toilets. To be inaugurated on September 20, Guwahati will get 30 new bio-toilets. As of now, 22 have been completed. The bio-toilets will be installed for a budget of Rs 9.53 crore.Under the Smart City Project, Guwahatians are likely to get facilities like bio-toilets and water ATMs. Officials at Guwahati Smart City Limited (GSCL) said that in the first phase, 14 smart bio-toilets and seven water ATMs will be commissioned and will be inaugurated at a function on September 20. The entire project will cost around Rs 11 crore. The water ATMs will be set up at the Nehru Stadium, Gauhati Medical College and Hospital (GMCH), B Barooah Cancer Institute, Dispur Circle Office, Sarumotoria near Dispur Police Station, Inter-State Bus Terminus and near the Veterinary College field.
Assam to get smart fencing next week, Rajnath Singh to start system in Dhubri
 ANN NEWS (18/09/2018)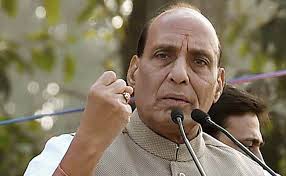 GUWAHATI : Under the Comprehensive Integrated Border Management System (CIBMS) programme, smart fencing will be placed on Bangladesh border. Union Home Minister Rajnath Singh will kick start the system in Dhubri next week. "After the successful maiden testing in the region earlier this year, the BSF will roll out the smart fencing in Assam to completely seal the borders touching Bangladesh," said sources, as quoted by FE Online. The smart border fencing projects built under the CIBMS programme is the first of its kind in the country. On Monday, Singh inaugurated two pilot projects of smart fencing along the Indo-Pak International Border in Jammu and said that the government has taken a number of initiatives by making maximum use of technology to make the borders of the country more secure.
Assam girl bags Gold in Asia Pacific Masters' Games in Malaysia
 ANN NEWS (18/09/2018)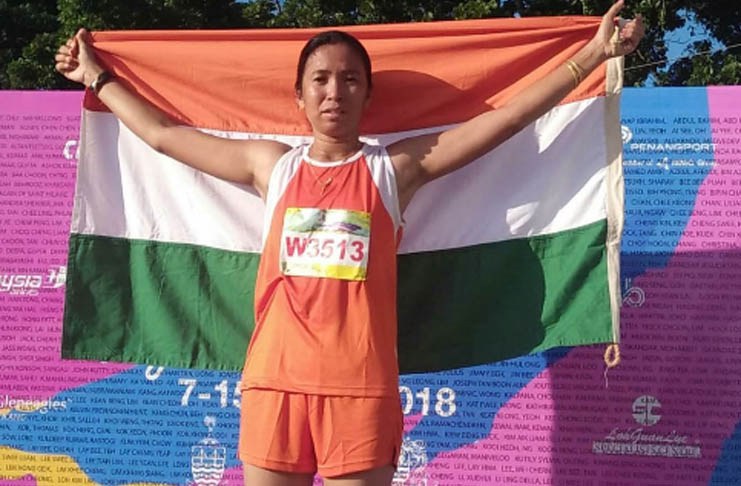 GUWAHATI : It's raining gold for Assam in sports. Pokhila Ingtipi, who hails from Diphu in Karbi Anglong, clinched the Gold medal in the 5000 meters walking competition of Asia Pacific Masters' Games at Penang in Malaysia on September 12. The athlete also won a Bronze medal in 5000 meters race in the same event. In a close fight, she beat Yiap Fangling and Ta Nchin Chin, both from Malaysia, on September 12. It may be mentioned that after achieving this feat, Pokhila has become the first girl from Assam to carve a mark in the Athletics category of this competition. Pokhila also won a gold medal in the 1st National Masters Games at Chandigarh in the 1,500 meters race category in April.
Silapathar case : Subodh Biswas Gets Bail
 Bhupen Goswami (18/09/2018)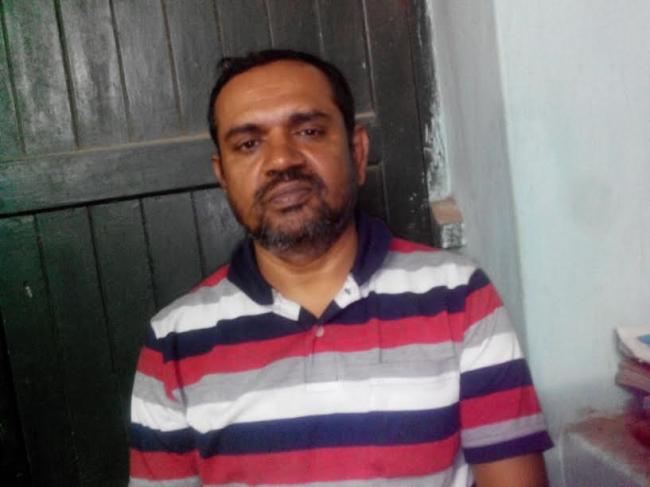 GUWAHATI : The prime accused of the Silapathar incident and president of the Bengali organisation, NiBBUSS, Subodh Biswas has got bail on Tuesday. Subodh Biswas after being denied bail multiple times here in Assam by the Gauhati High Court has now got the bail after one and half year. On March 6, 2017, a mob that was allegedly led by Subodh Biswas attacked and vandalized an AASU office in Silapathar.Biswas' bail petitions, president of Nikhil Bharat Bengali Udbastu Samannay Samitee (NBBUSS), were rejected on several occasion earlier. The bail was granted by the Court of Justice Mir Alfaz. On March 6, 2017, the NBBUSS had organised a public meeting and a march at Silapathar in Dhemaji demanding citizenship to all Hindu immigrants from Bangladesh. During the march, the supporters and workers of the Bengali organisation attacked the All Assam Students' Union (AASU) office. Eight AASU members were also injured during the incident. Assam Police registered a case at Silapathar Police Station under Sections 147, 148, 149, 448, 325, 307, 427 and 153 of IPC. The FIR was lodged by Krishna Ranjan Chutia and Bhagawan Doley, general secretary and president of AASU's Dhemaji district unit. On March 24, Biswas was picked up from the residence of a retired school teacher in Bajitpur, a border village under Bongaon police station in North 24 Parganas district. He has been charged with abetting riots and inciting enmity between two communities. On the other hand, the AASU blamed the state government for the granting of the bail by the court. Dipanka Kumar Nath, president of AASU said, "Due to the lackadaisical attitude of the state government, Biswas was able to secure the bail. It is the responsibility of the government to present the evidences correctly and ensure punishment. Biswas must not be given a chance to walk-free." He added, "If Biswas gets relief, the AASU will never forgive the Assam Government. We have reports that certain government officials tried to create obstructions during the investigation.""Following the AASU office attack incident, police has arrested over 50 persons in connection with the incident. A case (67/2017) was registered against Subodh Biswas under section 147/148/149/448/325/307/427/153(A) of IPC. Investigation is ongoing and no one will be excused who involved in the incident,"Meanwhile, Subodh Biswas and his associate have been produced before the district court at Bongaon and Assam police would likely seek them in transit remand. Earlier, the Assam police team had carried out operations in search of the most wanted person in New Delhi, Tripura, Maharashtra, West Bengal, Andaman, and Arunachal Pradesh. The activists of NIBBUSS led by Subodh Biswas had vandalised a local office of AASU in Silapathar in northern Assam's Dhemaji district on March 6 in 2017 last.
Assam CM inaugurates "Swachhta Hi Sewa 2018" campaign at Boko Piped Water Scheme under 'Mission 100' also inaugurated Every citizen must help in keeping each town or village clean: CM
 Bhupen Goswami (17/09/2018)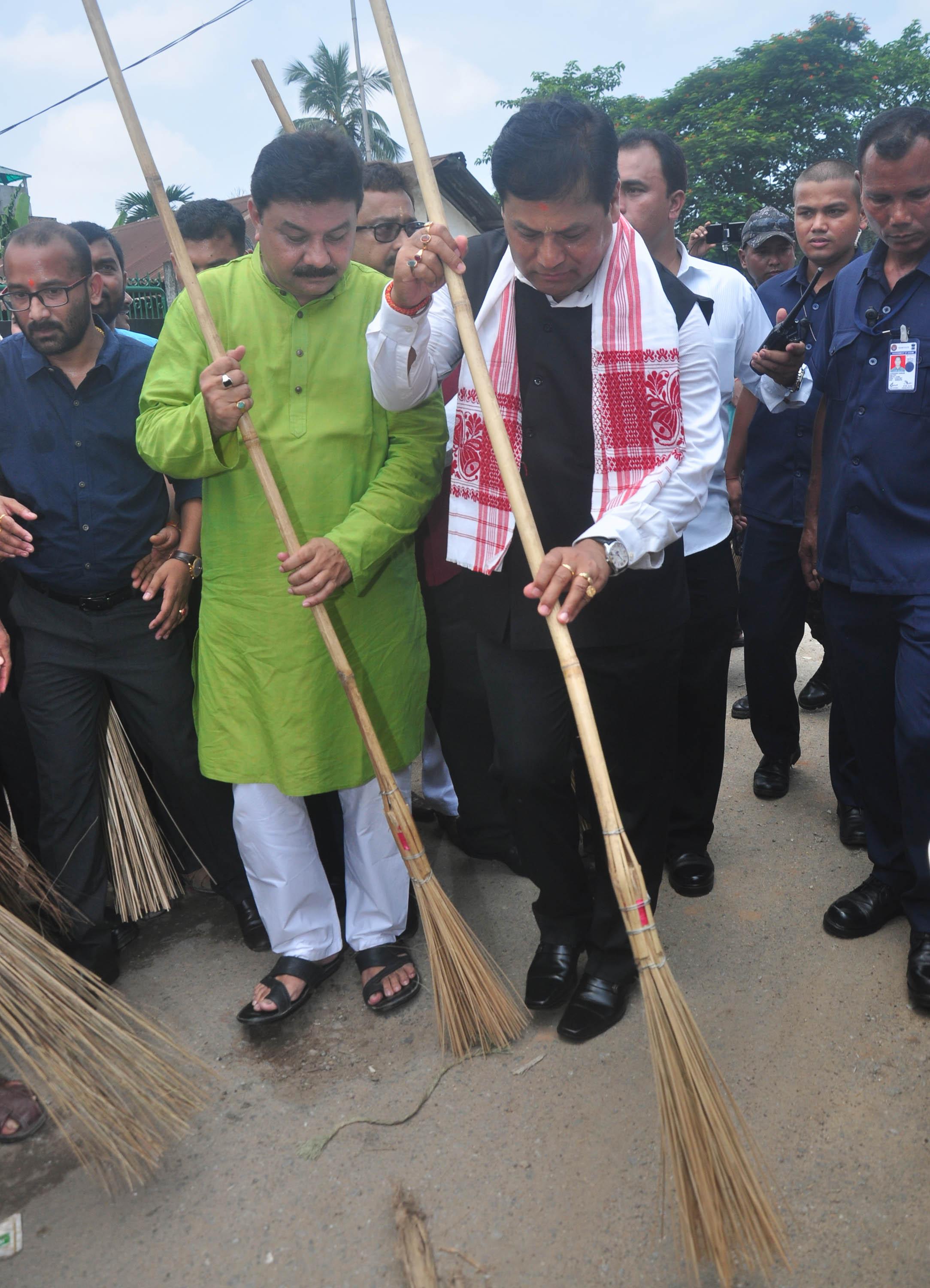 GUWAHATI : "To realise Mahatma Gandhi's dream of making India clean and dirt- free, Prime Minister Narendra Modi has started Swachh Bharat Abhiyan. This campaign has not remained merely a government programme as it has transcended into a mass movement which is embraced by the people of the country wholeheartedly."Chief Minister Sarbananda Sonowal today said while inaugurating "Swachhta Hi Sewa 2018" campaign and a piped water supply scheme under "Mission 100" at Boko in Kamrup. The nationwide 'Swachhta Hi Sewa 2018" campaign was launched today by Prime Minister Modi at New Delhi to mark the 150 year of Mahatma Gandhi's birth anniversary on 2 nd October. Urging the people to make the objective of the campaign of making a clean India and Assam successful, the chief minister called on the people to join hands with the government in keeping each village and town of the state clean and dirt-free. He also informed that people have given tremendous response to the government's call to plant fruit and flower bearing and medicinal trees for realising the dream of a pollution free Assam. Saying that educational institutes must have conducive atmosphere for building good citizens for the country, Sonowal said that only good thoughts can lead to good deeds. He also said that through the students' hard-work and discipline the state can be made one of the best states in the country. "As Engineers Day is celebrated today in the country in memory of renowned engineer Sir Vishweshvaraya, it is the right occasion to pledge to keep every place in the 33 districts of the state clean and free from dirt" he opined. Acknowledging the role played by three environmentalists for generating awareness among the masses, Sonowal said that the programme christened 'Clean and Green Village' started by MyGov Assam has elicited good response throughout. He also said that the spontaneous involvement of the people across the state in the environment protection measures is indeed a source of inspiration. Immediately after independence, position of Assam was fifth among all the states. However, the reasons best known to the previous governments, the state could not cling on its position and slid down remarkably. Significantly, the Narendra Modi led Central government for the real development of Assam and other north eastern states, has taken several promising plans. For the overall development of all sections of the people of the state, both Central and State governments have concentrated and augured an ambience free from corruption. He also called upon the people of the state to take responsibility to lend sustenance to the visionary Mission 100 Piped Water Supply Scheme launched today to give safe and pure drinking water to the people of the state. Public Health Engineering Minister Rihon Daimary while speaking on the occasion said that Swachhata Hi Seva which has been launched today will continue up to 2 October, the birth day of the Father of the Nation, Mahatma Gandhi. He also said this programme is an effort to bring in cleanliness in the villages through engagement of Satyagrahis. He also informed that under Swachh Bharat (Grameen), the state witnessed construction of 30 lakh toilets till 11 September and the Central Government has given 122 schemes for arsenic and fluoride free water in the state. Referring to 'Mission 100' 111 Piped Water Supply Scheme have been inaugurated to benefit 2.5 lakh families in the state. Secretary Public Health Engineering Dr. Siddhartha Singh delivered welcome speech. MP Bijoya Chakraborty, MLA Boko Nandita Das also spoke on the occasion. In the beginning of the programme on the occasion of Engineers' Day Chief Minister Sonowal expressed tributes to Er. M. Visvesvaraya. He also administered a pledge to the people on the occasion of launching Swachhata Hi Seva. MLA Pranab Kalita, former MLA Jyoti Prasad Das, Additional Chief Secretary Kumar Sanjay Krishna, DC Kamrup along with the top officials of Public Health Department were also present in the programme. Earlier, the chief minister also inaugurated the 2 No Rajapara piped water supply scheme. He stressed on the need to properly maintain the scheme and keeping the natural beauty of the area intact. The chief minister had also taken part in a cleanliness campaign at Beltola in the city in the morning.
Assam CM inaugurates 300 bedded Mother and Child Care Hospital at AMCH Foundation Stone for reconstruction of A.T. Road and new Dental College laid CM calls for united efforts for implementation of development works
 Bhupen Goswami (17/09/2018)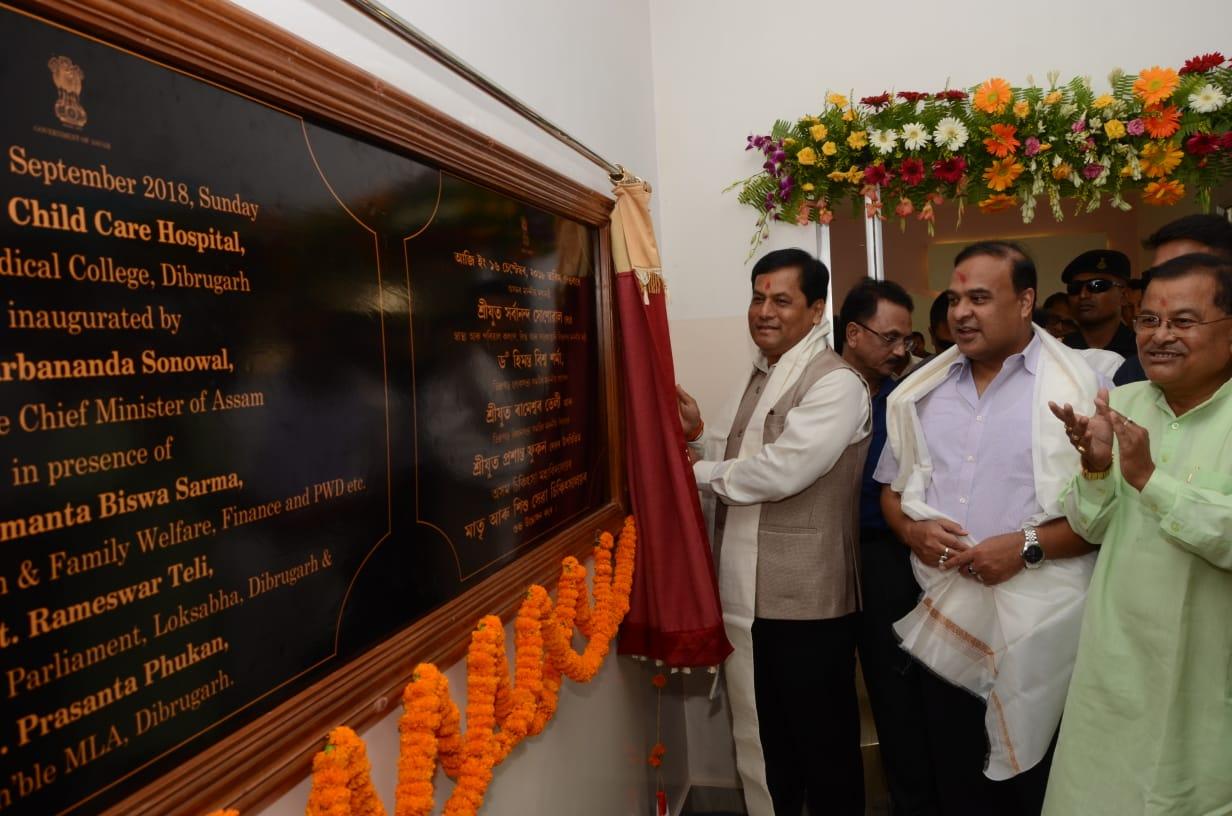 GUWAHATI : Unleashing a major boost to medical care facility and road communication in Upper Assam, Chief Minister Sarbananda Sonowal kicked off a number of development projects in Dibrugarh district today. The Chief Minister inaugurated the newly constructed Mother and Child Care Hospital and laid foundation stone for construction of a Dental College at Assam Medical College Hospital apart from initiating reconstruction of 19 KM stretch of AT Road from Chaulkhowa to Borboruah in Dibrugarh. While the 300 bedded Mother and Child Care Hospital has been constructed with an amount of Rs. 12.05 crore, the AT Road reconstruction would be taken up with a financial outlay of Rs. 32.29 crore. Speaking on the occasion in a public meeting held at Dr. Berry White Auditorium of Assam Medical College Hospital, Chief Minister Sarbananda Sonowal underlined the rich contribution of this prestigious medical institution towards the development of medical education and health care facilities in other parts of the state. He said that the people of the state desired that the dignity of this pioneering institution is fully maintained and this must be ensured with joint efforts of all sections of the society including the medical fraternity. Stating that the new infrastructure and modern equipments would give a new dimension to the medical college, the Chief Minister stressed on their proper utilisation and maintaining best standard of service as well as cleanliness in its campus. Moreover, highlighting the state government's initiatives to boost infrastructural development as well as initiatives to transform the state as the gateway to the ASEAN and BBN nations, the Chief Minister called for joint efforts and exhorted to uphold Team Assam spirit. He hoped that as a result of better infrastructure in the field of communication and other sectors Assam would soon emerge as a preferred global destination. Further, saying that the Prime Minister's Act East Policy leverages the growth trajectory of the state and the north eastern region, Chief Minister urged the students and young generation to work hard to materialise the hallowed vision of the Prime Minister. Sonowal in his speech also put special thrust on maintaining cleanliness in day to day life and observed that 'Swachhata he Seva' campaign would significantly help in motivating people to keep the environment clean and healthy. He also appealed the members of the medical fraternity to take the message of the medical schemes to the people so that they accrue maximum dividends from them. State Health Minister Dr. Himanta Biswa Sarma delivering his speech said that the new Mother and Child Care Hospital was the most modern MCH institution in all six medical colleges with latest line of equipments in the state. He hoped that this institution would significantly help people of Upper Assam with better medical facilities. He further informed that the government of Assam approved an amount of Rs. 50 crore for construction of a permanent and independent campus of the Dental College for which foundation stone was laid today. Already admission to 50 students were given in the Dental College which also got recognition from Dental Council of India, Dr. Sarma said adding that the Dental College would be named as Dibrugarh Dental College. He also informed that apart from the six medical colleges, construction work of medical colleges at Nogaon, Dhubri, Lakhimpur and Diphu was smoothly progressing. Besides work for three new medical colleges at Nalbari, Kokrajhar and Tinisukia would start soon for which the government already approved budget of Rs. 1000 cores. He said that construction work of AIIMS would start from November this year and medical college at Karimganj from next year. The Health Minister also informed about investing more funds for strengthening the infrastructure of hostels, quarters of faculty members, blood bank etc. at Assam Medical College. Dr. Sarma also said that under Atal Amrit Abhiyan around 8700 patients availed benefits since April this year for treatment of six critical ailments. He further informed that Ayushman Bharat would be rolled out from 23 rd September under which 24 lakh families would be benefited. He also informed that around 14 lakh patients were benefited under Chief Minister Free Diagnostic Scheme in the state. The Minister also said that the state government would launch free dialysis service at district hospitals soon and provide Rs. 12000 financial assistance to tea garden pregnant women from 1 st October this year. Dibrugarh MP Rameswar Teli and MLA Prashanta Phukan also spoke on the occasion. While Principal Secretary Health Samir Sinha delivered the welcome address the meeting was attended by MLAs Rituparna Baruah, Terosh Gowala, Chakradhar Gogoi, Naren Sonowal, Jugen Mohan, Suren Phukan, Sanjay Kisan, Binod Hazarika, Bimal Bora, Commissioner of PWD Raj Chakraborty, Deputy Commissioner Dibrugarh Laya Madduri, Director Medical Education Dr. Anup Barman, Principal AMCH Dr. Hiranya Kumar Sarma among others.
Modi's Birthday : BJP Assam To Observe 'Seva Saptah'
 Bhupen Goswami (17/09/2018)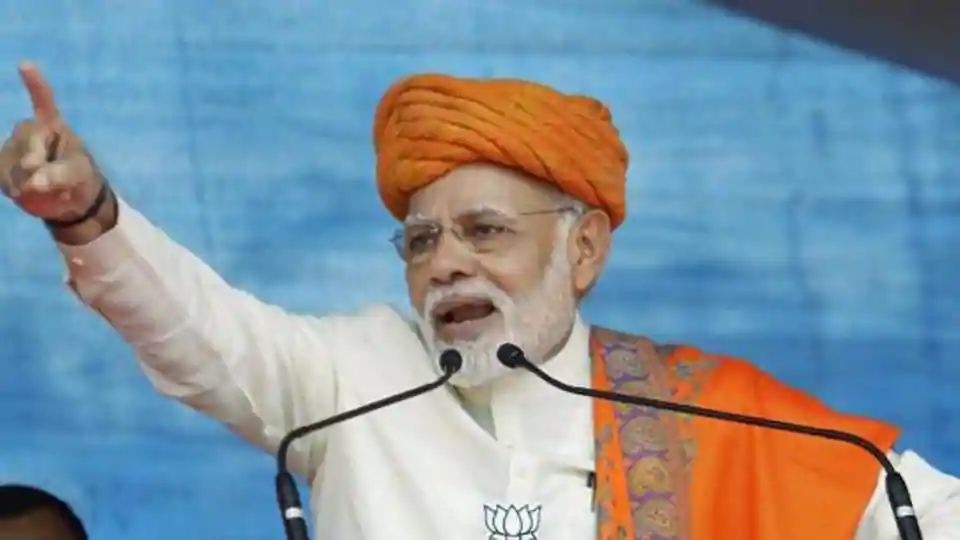 GUWAHATI : The Bharatiya Janata Party (BJP) Assam state committee will be organising a 'Seva Saptah' or Service Week on the occasion of Prime Minister Narendra Modi's birthday on September 17. As part of the Seva Saptah, party leaders and workers will be visiting slums and villages to organise health camps and other similar services aimed at benefiting the poor and the deprived. During the Seva Saptah, Party workers will also be paying tribute to former PM Atal Bihari Vajpayee who passed away on August 16. PM Narendra Modi himself will spend his birthday in Varanasi, his parliamentary constituency. Narendra Modi will celebrate his 68th birthday in his parliamentary constituency of Varanasi. The preparations for his visit are currently underway in the town. The prime minister will spend the day with children of a primary school aided by a non-profit organisation. Union Ministers Prakash Javadekar and Mukhtar Abbas Naqvi have released a book 'The Making of a Legend' on the 68th birthday of Prime Minister Narendra Modi in New Delhi. Tripura CM Biplab Kumar Deb takes part in a 'Swachh Bharat Abhiyan' cleaning campaign on Prime Minister Narendra Modi's birthday, in Agartala.
Assam : FIR lodged over hoisting of 'Pakistan-like flags' in Tinsukia
 Bhupen Goswami (17/09/2018)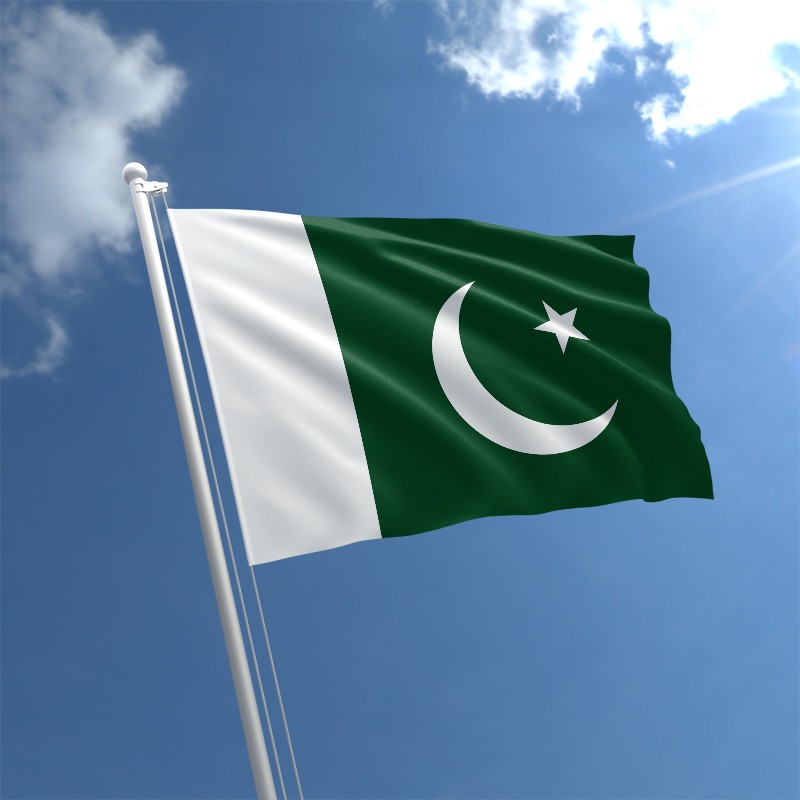 GUWAHATI : At a time when the Tinsukia district is at the edge following incidents of a communal flare-up in the past two days, an organisation has lodged an FIR against a woman for hoisting Pakistan-like flags. The FIR has been lodged on Sunday by Jyotinagar Nagarik Sanstha at the Tinsukia Police Station against one Sabana Begum.A fear psychosis has geared the local people due to the hoisting of flags. The locals assume that these flag will threaten the peace and brotherhood in the region. Hence, we request you to remove those flags," reads the FIR. The FIR was signed by Tilak Handique, president and Kokil Chandra Konwar, general secretary of the Jyotinagar Nagarik Sanstha. Tinsukia Superintendent of Police Mugdha Jyoti Mahanta told media persons "Those are religious flags. We cannot do anything about it. We will take action if someone forcefully pulls them down." Alams -Islamic flags – are seen during Muharram mourning processions. Muharram began on September 12 and is observed for the first ten days. It marks the beginning of new Islamic Year. The tenth day of Muharram is known as the Day of Ashura which observes the death of Hussein ibn Al – the grandson of Prophet Muhammad. Ashura falls on Friday, this year.
ASSAM : Suspected Hizbul Mujahideen operative arrested in Nagaon
 Bhupen Goswami (17/09/2018)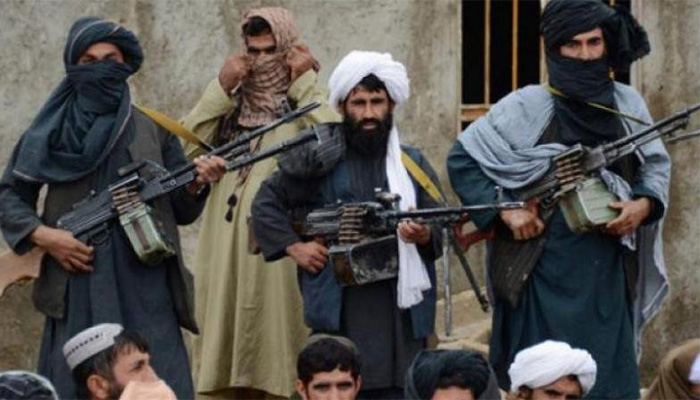 GUWAHATI : Assam Police arrested one more person – taking the count to four in 72 hours – over charges of being associated with the Kashmiri separatist militant organization Hizbul Mujahideen. Riyaz Uddin has been arrested from Kochuwa, Nagaon on Monday. His bike has been seized by police. Riyaz is now being interrogated by a special team of Uttar Pradesh Anti-Terrorist Squad (ATS), intelligence and Assam Police. On the other hand, two more persons have been detained at Jamunamukh. The persons have been identified as Baharul Islam and Joynal. As per reports, Riyaz's bike was often used by arrested suspected Hizbul militant Sahanawaj Alom. Sahanawaj was arrested on September 15 from Nilbagan in Hojai. It may be mentioned that following the arrest of Hizbul Mujahideen militant Qamar-uz-Zaman in Kanpur, Assam Police arrested Sahanawaj, Saidul Alom and Omar Faruk and also detained Zaman's elder brother Liton, Islam and Joynal. Liton is now being interrogated by the Uttar Pradesh ATS in Lanka. It may be mentioned that on April 9, 2018 at around 8.30 pm, a photograph of Zaman, holding an AK 47 assault rifle, claiming to be a new member of Hizbul Mujahideen was uploaded on the Facebook and accordingly an entry was made at the Jamunamukh Police Station. Hizbul Mujahideen was founded by Muhammad Ahsan Dar in September 1989. The group has been designated as a terrorist group by India, the European Union and the United States, active in the state of Jammu and Kashmir since 1989.
Haryana men arrested for cloning ATM cards in Guwahati
 Bhupen Goswami (17/09/2018)

 GUWAHATI :Two ATM fraudulents have been arrested by Assam Police for disguising as bank officers and duping people by cloning their ATM cards. Both accused, the native of Haryana, were arrested near Lokpriya Gopinath Bordoloi International (LGBI) Airport in Guwahati on Sunday. Police seized 43 blank ATM cards, one laptop, swipe machine, three mobile handsets, and Rs 20,000 in cash from their possession.Assam Police on Sunday arrested two youths, natives of Haryana, for posing as bank officers and duping people by cloning their ATM cards. Both the accused were arrested here near the Lokpriya Gopinath Bordoloi International Airport in Guwahati. A case has been registered in the Azara Police Station. As many as 43 blank ATM cards, one laptop, swipe machine, three mobile handsets, and Rs 20,000 cash have been seized from their possession.
Former Meghalaya CM and Congress heavyweight, Lapang firm on his decision to resign despite requests from Rahul and Sonia Gandhi's office
 Bhupen Goswami (16/09/2018)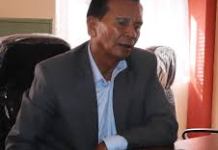 GUWAHATI : Former Meghalaya CM and Congress heavyweight, Dona Dethwelson Lapang has refused to reconsider and withdraw his resignation despite requests from party president Rahul Gandhi and other senior party members. According to sources Lapang has been staying in Meghalaya House in Delhi and refused to answer calls from Rahul and Sonia Gandhi's office. Sources further revealed that Shillong MP from Congress Vincent H Pala had a two-hour meeting with the estranged leader in his room but all efforts went in vain. "There is no question of coming back," Lapang reportedly told Pala. Sonia Gandhi's office also tried to establish contact with Lapang. But the 84-year-old leader remained evasive, unconfirmed reports said. Lapang resigned from the party on Thursday accusing the central leadership of "sidelining" senior leaders. Also read: Meanwhile, AICC general secretary Ashok Gehlot, along with several other top leaders had also tried to talk to Lapang but he did not receive any calls. A day before Lapang took the decision to resign, he attended a meeting of the District Congress Committee in Nongpoh along with Nongpoh legislator Mayralborn Syiem and Umroi legislator George Lyngdoh. Lapang had given way to Syiem to contest from his constituency Nongpoh in the February 27 Assembly polls. However, the party leaders and MLAs who attended the meeting did not have any clue about Lapang's move the next day. Congress spokesperson HM Shangpliang said on Friday that Lapang left for Delhi on Thursday afternoon and at night he tendered his resignation, which was a surprise and shock for the party. Even the AICC leader Luizinho Faleiro who was in Shillong when Lapang tendered his resignation, wanted to meet him at his residence and the matter was communicated to him. He said, "The party has great respect for Lapang and under his leadership, the Congress has risen in the state. The party owes a lot to the great leader. It would love to have him as he is a father figure". It may, however, be mentioned that when Lapang fell ill last February, Rahul Gandhi had come down to Meghalaya House to meet him.